Joining forces to deliver NG911 solutions that can help you save more lives today.
NWN Carousel partnered with Carbyne to meet their customers' needs by providing APEX and Universe solutions. Offering unparalleled features such as Video-to-911, Imagery to 911, On-Demand Zero Click Location, Automatic Disaster Recovery, Real-time Audio Translation, and much more.

Cloud Native Platform: Resistant to Infrastructure Failures. Don't let hurricanes, floods, fires, earthquakes, power outages, terrorist attacks, and other catastrophes stop your mission-critical operations.


Security: Government facilities are a target for hackers. In the last few years, nearly 1,000 U.S. government entities were attacked costing local and state governments over $18 billion. Leverage Cloud zero trust architecture to safeguard your data in a digital native environment.

Cost Savings: Quarter of million in potential savings by locating your callers faster, dispatching the right resources, reduce costs with a cloud-native tech stack, streamline record requests, translate calls in real-time and reduce staff turnover by improving well-being and retention.
Harnesses the power of the cloud to provide a dynamic, scalable, rich media solution capable of growing with the evolving demands of emergency services.
Learn more about how to purchase Carbyne products through NWN Carousel
Harness the Power of the Cloud and AI for Your Center
Real-Time Video-to-911
From rescuing a kayaker stuck in the ocean, to saving a seizure victim improperly placed face-down, Video-to-911 is a life-saver time after time.
Real-Time Live Audio Translation
This revolutionary AI technology helps call-takers save time and money, reduce errors and support diversity. Aides call takers with translation when non-English speakers have difficulty communicating.
Chat-to-911
What if your caller is not able to, or not willing to speak aloud? Whether a burglary or an active shooter situation, maintain communication when it matters most.
Accurate Real-Time Location
Take guesswork out of your operation by knowing exactly where your caller is, whether for 911 calls, 311 calls, admin line calls, hangup calls, abandoned calls, and more.
Automatic Disaster Recovery
Keep your life-saving operations running no matter what - despite fires, floods, hurricanes, tornadoes, earthquakes, terrorist attacks, and more.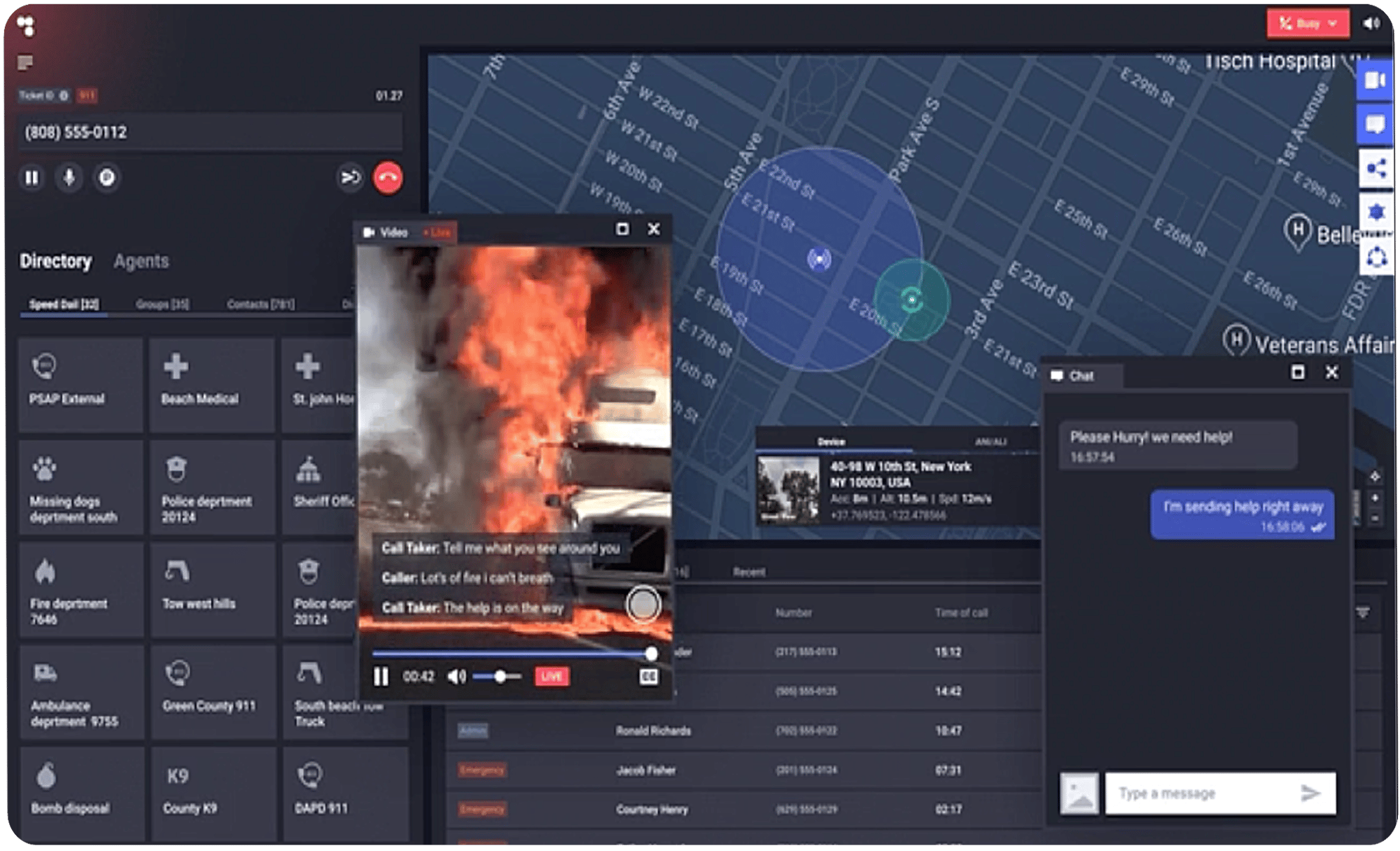 "Integrating Carbyne's NG911 solutions into our services portfolio is a strategic enhancement for NWN Carousel and a significant advancement for the wider public safety industry. This partnership empowers us to enhance how 9-1-1 services operate, increasing their capacity to handle emergencies and ultimately save lives. It not only strengthens and diversifies our product portfolio but also enables us to play a pivotal role in modernizing public safety through technology innovation"


Mark Moretti
NWN Carousel
Why
NWN Carousel
NWN Carousel is a Cloud Communications Service Provider (CCSP) that specializes in enhancing the customer and workspace experience for commercial, enterprise, and public sector organizations. Providing NG911 solutions that are secure, innovative, and scalable to meet the needs of their clients. With over 1,500 9-1-1 seats across almost 200 locations, they offer top-notch services through their state-of-the-art Network Operations Center(NOC).
Location Updates Per year
1.5 Minutes Live Video Shared
Per Year